Assembling a Black Counter Culture
DeForrest Brown, Jr. and Ytasha L. Womack
November 14, 2022 6:30pm
80WSE
Conversation and Listening Session
November 14, 2022 | 7pm (Doors open at 6:30 pm) 
Visitors must be fully vaccinated against Covid-19 for entry and are encouraged to wear a mask.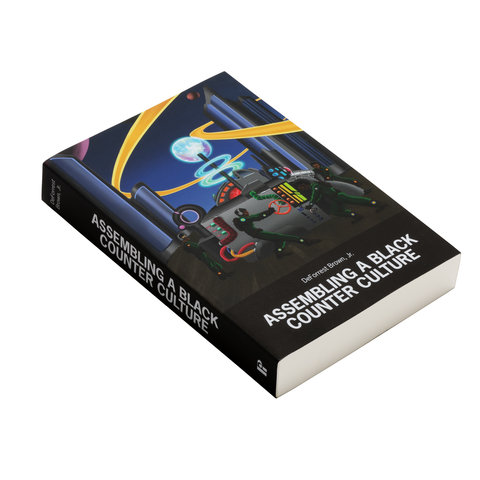 80WSE Gallery and Primary Information present a conversation and listening session to celebrate DeForrest Brown, Jr.'s Assembling a Black Counter Culture, a debut book presenting a comprehensive account of techno music with a focus on the history of Black experiences in industrialized labor systems—repositioning the genre as a unique form of Black musical and cultural production.
The event will feature Brown and author, filmmaker, dancer, and independent scholar, Ytasha L. Womack on the history, present, and (Afro)future of techno and the genre's capacity for world building. 
Published by Primary Information, Assembling a Black Counter Culture traces the genealogy and current developments in techno, locating its origins in the 1980s in the historically emblematic city of Detroit and the broader landscape of Black musical forms. Reaching back from the transatlantic slave trade to Emancipation, the Industrial Revolution, and the Great Migration from the rural South to the industrialized North, Brown details an extended history of techno, following the groundbreaking work of key early players like The Belleville Three, the multimedia output of Underground Resistance and the mythscience of Drexciya. Brown draws parallels between movements in Black electronic music and Afrofuturist, speculative, and Afrodiasporic practices to imagine a world-building sonic fiction and futurity embodied in techno.
Brown is joined by Ytasha L. Womack, whose writing and artistic practice is deeply informed by Afrofuturism. She is the author of a critical history of Afrofuturism across film, visual arts, science fiction, music, and technology, as well as the time travel sci-fi series Rayla Universe, which traces the journey of a third-generation citizen of Planet Hope, a former Earth colony that has claimed its independence, among many other publications.