Institute of Queer Ecology with A.L. Steiner
Mutability and Mutualism
September 12, 2023 6:30pm
80WSE
7pm (Doors open at 6:30 pm) 
On the occasion of A.L. Steiner's exhibition,
Irthebound
, join the Institute of Queer Ecology for a conversation with Steiner on how embodied queer experience can shape our relationships to other species, landscapes, and each other in a rapidly changing world. 
IQECO co-directors, Lee Pivnik and Nicolas Baird, will give a presentation on their collaborative research into "Mutability and Mutualism", two recurrent themes of queer ecology that make visible the interconnected, entangled web of life on earth and honor the strange, wonderful, multi-species amalgamation we live in community with. 
On a rapidly changing planet, Queer mutability and mutualism can guide us toward adaptation and flourishing.
At the scale of the individual—the organism—Queerness is mutable: it is the power of transformation; of shapeshifting, fluency, and the freedom to move from form to form; a constant becoming.
At the scale of the collective—the ecosystem—Queerness is mutual: it is symbiotic, in-contact, relational; it is a space of eccentric economies and mutual support; a world shaped by cooperation. 
The Institute of Queer Ecology is an ever-evolving collaborative organism that seeks to bring peripheral solutions to environmental degradation to the forefront of public consciousness. To date, the Institute of Queer Ecology has worked with over 125 different artists to present interdisciplinary programming that is unified and grounded in the theoretical framework of Queer Ecology, an adaptive practice concerned with interconnectivity, intimacy, and multi-species relationality.
IQECO is co-directed by Lee Pivnik and Nicolas Baird, who have been working together since 2017. Lee Pivnik is a Miami-based artist whose current work is focused on the history of the built environment in South Florida, and looks towards local organisms and living systems to identify regenerative solutions to continue living in a city marked by precarity. Nicolas Baird is an artist, evolutionary biologist, writer, and dancer from Oracle, Arizona and is currently based in New York City, where he is studying for a doctorate in earth science. Baird's scientific research and art practice are concerned with the evolutionary relationships between bodies and their landscapes, coevolution, and multispecies adaptation. 
"Mutability and Mutualism" is presented in collaboration with NYU Department of Performance Studies at Tisch School of the Arts and XE: Experimental Humanities & Social Engagement.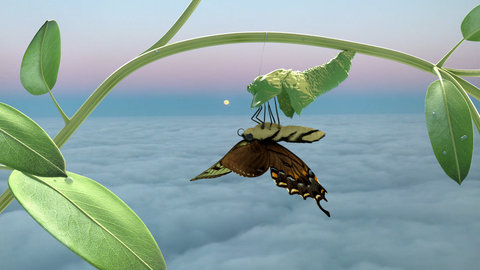 Still from Metamorphosis, episode 3, Emergence, 2020. Image courtesy of the Institute of Queer Ecology and DIS.